---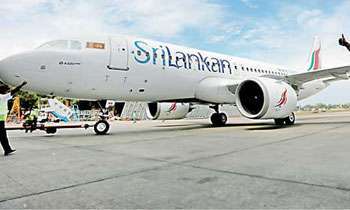 Former Sri Lankan Ambassador to the United States Jaliya Wickramasuriya had insisted on being accommodated aboard a SriLankan Airlines flight from Washington to the Mattala Airport via Dubai and billed it to the Ministry of Foreign Affairs (FAM) in 2013, the Presidential Commission of Inquiry (PCoI) into irregularities at SriLankan Airlines, SriLankan Catering and Mihin Lanka was told yesterday.
SriLankan Airlines, Manager Financial Compliances Kasun Ratnayake informed the Commission that the chartered flight booked by Wickramasuriya cost the airline Rs.7.8 million which was done without getting the approval from the Foreign Ministry.
The witness informed the Commission that when they attempted to recover this amount from the Foreign Affairs Ministry, they were informed that Wickramasuriya had booked the flight with the assistance of a SriLankan official and asked the airline to conduct an internal audit in order to recover the amount.
The Commission also heard that the Foreign Affairs Ministry owes SriLankan a sum of Rs. 9.1 million in total for the chartered flight booked by Wickramasuriya.
Mr. Ratnayake also revealed an instance when a chartered flight to the Maldives has been booked under the name of the Ministry of Foreign Affairs. This booking, which was done in 2009 was also done without the knowledge of the ministry. He stated that they had not conducted an audit into either of these flights which cost the airline a great deal of money.
The Commission also heard that the Presidential Secretariat, Foreign Affairs Ministry and Commonwealth Games Committee owed SriLankan Airlines a sum of Rs.122.3 million for charted flights booked between 2006 and 2014.
The Manager Financial Compliances of SriLankan Airlines also informed the Commission that former Group Financial Officer (CFO) of SriLankan Lalith Vithana in April 2018 inquired from the Treasury whether it could write off this debt as all their attempts to collect the money that was owed the airline had ended in failure. It was also revealed SriLankan had not sorted any legal action because the institutions that owed money to the national carrier were government entities.
Chairperson of the PCoI, Justice Anil Gooneratne asked Ratnayake whether the legal division of the airline had sent letters of demand to these institutions in a bid to collect the vast sums owed to it. "Since government institutions were involved we didn't resort to legal action to recover the dues," Ratnayake explained.
Gooneratne stated that Commonwealth Games Committee was a private entity and that UL can easily institute legal action against them. "We have sent a letter to Udaya Seneviratne, the Chairperson of the Committee but the letter was returned," he said. (Yoshitha Perera)