---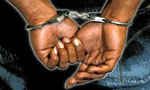 A 37-year-old jailor had been arrested for possessing fifty grams of heroin last evening, the Police said.
They said the suspect was arrested at the Borella Junction following a tip off to the Borella Police.
Following investigations the Police had found out that the suspect was a Jailor.
He would be produced before the Maligakanda Magistrate, the Police said.
Video by Rishan