---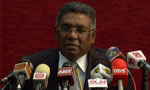 Several blocks of land in the Jaffna District cannot be handed back over to their original owners because those lands are considered as being essential for national security, Defense Secretary Karunasena Hettiarachchi said today.
"Those lands are considered nerve centres relating to the security of the country," he said.
He however said that steps had been taken to hand over more than 5700 acres of land back to the original owners in the Jaffna District.
The Government is planning to take over those lands by paying the owners a high value as compensation. Discussions are currently under-way with the Provincial and District Secretaries in the Jaffna District in this regard.
"We have now calculating how much land needs to be held back for the use of the military after which a part of the remaining land would be returned to the previous occupants while the rest would be used for development purposes," he said. (Chaturanga Pradeep)
Video by Indika Sri Aravinda