---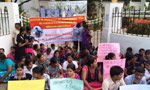 Jaffna University students launched a protest today over the shooting of two university students who are alleged to have disregarded orders to stop their motorcycle when asked to do so at a police roadblock.
The two students had died on admission to hospital.
The protesting students blocked the entrance to the Jaffna District Secretariat and boycotted lectures demanding that justice be meted out to the two students.
They claimed that a fear psychosis prevailed among the people with regard to the civil administration in the Peninsular after what they described as an unwarranted act by the police who had shot the students over a minor incident. (Romesh Madushanka)