---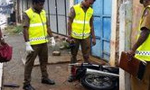 In the aftermath of the killing of two Jaffna university students, six Tamil political parties have called for a 'hartal' (stoppage of civil activities) in the north tomorrow, a former MP said yesterday.
Former Tamil National Alliance (TNA) MP Suresh Premachandran told Daily Mirror yesterday the six parties- ITAK, TELO, PLOTE, EPRLF, TULF and ACMC- would organize this event.
He said this would be done to register their protest with the government over the incident, and call for action against the wrongdoers. "We suspect a hidden hand behind this incident. We asked for the scaling down of the military presence in the North in the belief that the police can look after law and order there," he said.
He said the use of force by the police could not be condoned at any cost.(Kelum Bandara)