---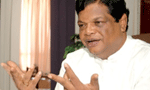 Colombo District Parliamentarian Bandula Gunawardene said the JVP, would never realise its dream of forming a government in 2020.
Addressing a meeting of the Panadura Joint Opposition Organisation at the Pinwatta White Heaven Hotel to organise the Joint Opposition's Pada Yatra demonstration, he pointed out that the people still remembered who created a season of terror by entering the houses by force at the dead of night and taking away the identity cards by force, by setting fire to public property and even by killing people in cold blood.
"Former Minister Basil Rajapaksa was remanded on the charge of issuing GI pipes to the local authorities. Even the Court refused to release him on bail. The country was busy like a bee hive during the Mahinda Rajapaksa regime. We noticed construction site in every nook and corner. Road net work in the country was developed. However, all development activities have ground to a halt today depriving livelihood to at least 500,000 people. Meanwhile tea, rubber and coconut industries that were the main foreign exchange earners have declined while paddy cultivation has been ruined" he said.
Nuwara Eliya District Parliamentarian C.B. Ratnayake and Kalutara District Parliamentarian Rohitha Abeygunawardene addressed the gathering. (Saman Kariyawasam and Kusal Chamath)
Video by Bimal Shaman