---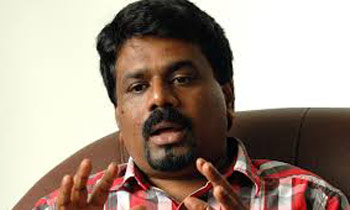 A proper interpretation is needed from legal experts to determine the validity of today's Cabinet reshuffle as it is questionable whether it has gone beyond the provisions set out in the 19th Amendment to the Constitution, the Janatha Vimukthi Peramuna (JVP) said today.
JVP leader Anura Kumara Dissanayake told a media briefing that his party would seek legal advice on this matter.
He said according to the 19th Amendment, the Cabinet had to be limited to 48 with 45 deputy ministers but however, the number of Cabinet portfolios had exceeded 48.
"We will consult our lawyers to find out whether the limit is based on the number of ministers in the Cabinet or on the number of posts," Mr Dissanayake said adding that a reshuffle would serve no purpose because what was needed was a policy change.
He said the President had told the new ministers that the reshuffle would generate new expectations but new expectations could be fulfilled only through a policy shift.
"If the reshuffle was done to fulfil the people's expectations of getting rid of corrupt politicians, then former finance minister Ravi Karunanayake should have been removed while Prime Minister Ranil Wickremesinghe who is responsible for covering up the bond issue, Agriculture Minister Duminda Dissanayake who is responsible for wasting millions of rupees on the ministry office, Arjuna Ranatunga who is alleged to be connected to deals in the Port and Ranjith Siyambalapitiya who is alleged to be connected to the controversial coal purchase deal should not be allowed to remain in the Cabinet," Mr. Dissanayake said.
This reshuffle he said is aimed at satisfying some persons in the government and to make it in tact till 2020. (Yohan Perera)
Video by RM