---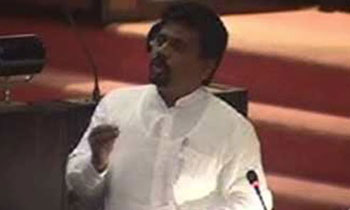 JVP leader and Chief Opposition Whip Anura Kumara Dissanayake said yesterday the government declared a state of emergency to suppress the peoples' struggle for their rights.
He said the general law was sufficient to take action against those who carry out violence.
"The government has failed to address the burning issues of the people, and protests are a blessing to the government to divert the attention of the people," he said.
Moving an adjournment debate on the current situation in the country, the MP said the government was attempting to capitalise on the communal tension in the country to divert the mounting pressure on the government, while the opposition was capitalising it to gain power.
He said steps should be taken to defeat racial politics and added that those responsible for communal tension should be brought to book.
"We will not be able to create national harmony among the different communities as long as racism was cultivated in the minds of the people. We as a country will not have a good future if racism prevailed in the country," he said and added that politics based on racism had been operating throughout.
Mr. Dissanayake said the government members, instead of focusing on the issues of the people, were concerned about their personal matters after the defeat at the local government elections.
"The government is bothered about the premiership and ministries rather than issues of the common people. They are not concerned about addressing issues of the common man such as purchasing of paddy, the unemployment of graduates and health issues. People should have resorted to a struggle against the government to win their rights, instead of a communal clash. It is a blessing for the government that people had resorted to a communal clash than a struggle against the government. That is why the government had allowed this sort of situations to thrive," he said.
He said the government should identify situations which could lead to communal clashes in advance, rather than acting like reporters and postmortem examiners, after an incident. (Ajith Siriwardana and Yohan Perera)