---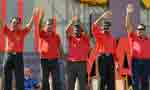 Reiterating that the Capitalism has no answer to the people's problems, the Janatha Vimukthi Peramuna (JVP) today requested the people to rally together for socialism in the country and begin a new political culture in which the suppressed would be facilitated.
The JVP May Day rally was held today with a massive crowd that entirely filled the BRC Grounds in Havelock Town.
Addressing the crowd, JVP leader Anura Kumara Dissanayake said the country needed to be cleansed from bad politics and that the May Day rally should be considered the first step.
He said the government formed by the United National Party (UNP) and the Sri Lanka Freedom Party (SLFP) had failed to solve the economic and political problems of the people.
He said Sri Lanka and its people must opt for socialism because all other governing systems had been shown to be unable to solve the people's problems.
The people have been suppressed in the North and the South. A big fight back should be started by the people to defeat the UNP and SLFP politicians who have shown their incapability to govern the country. Those two political parties are not qualified to do politics, so how can they govern the country? Prime Minister Ranil Wickremesinghe who boasted that he was the best qualified politician and economist has also dragged the country into another pile of problems. Not only the Prime Minister, but also the entire capitalist system has now collapsed throughout the world. This is the best time for Sri Lanka to start a new political culture. This can be done only by the JVP. We invite the people in the North and the South to join us to change the current system which has put more burdens on them,"
"The coalition government cannot take the county even one step forward. Mahinda Rajapaksa is nowadays behaving like a cut worm. He is spending last period of his politics. We are assuring you today in front of this massive crowd that the JVP will never let Mr. Rajapaksa return to politics again. We are assuring you that our struggle for a socialist economic system will be started from this rally. In a socialist system every person will be treated in the same way. Let the journey to a socialist Sri Lanka begin today when solutions will be given to every burning problem of the people. The JVP's 50 metre, 100 metre and 200 metre races are over now. Mahinda Rajapaksa was defeated and sent back to home, a considerable JVP representation in Parliament was won. The time has come to start the marathon of the JVP; and we assure you that until the victory is achieved we won't finish our marathon. And we will finish the marathon before the end this generation," he said.
JVP politburo members Tilvin Silva, K.D.Lal Kantha were Sunil Handunetti and were on the stage waving to the participant workers.
Representatives of socialist leaders of foreign countries took part.
"Let us work harder, let us be more united and let us achieve our goal -- which will soon facilitate all the people in Sri Lanka," he said. (Piyumi Fonseka)
Video by Richan