---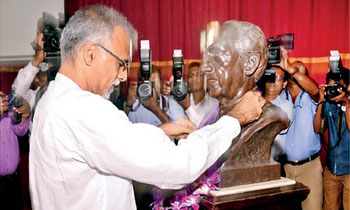 Asia would not have become a powerful region today and would not emerge as a stronger one in the future if President J R Jayewardene did not open up Sri Lanka's economy and set the course for the region to become what it is today, Prime Minister Ranil Wickremesinghe said yesterday.
Mr. Wickremesinghe said this during a ceremony held last evening to commemorate the late President Jayewardene's 111th birth anniversary which fell on Sunday, September 17.
"President Jayewardene began taking about opening the Sri Lankan economy when he was in the opposition before 1977. Many laughed at him. However he opened up the economy in November 1977 after coming into power in July in the same year. He set up free trade zones. A while later China sent a team to study the free trade zone concept and then set up such zones in China. India criticized Sri Lanka for opening up its economy in 1977 but they also did the same thing when Prime Minister Narasimha Rao assumed office. As a result of these decisions both India and China had become powerful today both economically and also in terms of military strength. Military in these countries are expanding. India is said to own 200 warships and China 300. They were able to become powerful and make the region powerful because of the economic development they had achieved. This economic development became possible because they opened up their economies following Sri Lanka. Therefore the Asian region would not have been powerful today if President Jayewardene did not decide on introducing an open economy policy," the Prime Minister said.
He added that President J R Jayewardene made all the decision in a bold manner. The Prime Minister said the late leader was able to construct reservoirs bigger than the ones constructed by the kings through the Mahaweli Project. "Our country has been able to become self sufficient in paddy as a result of the Mahaweli project," he also said.
The family members of President Jayewardene, several ministers including Nimal Siripala de Silva, Akila Viraj Kariyawasam, Gamini Jayawickrama Perera and Opposition Leader R Sampanthan were present at the ceremony. (Yohan Perera)