---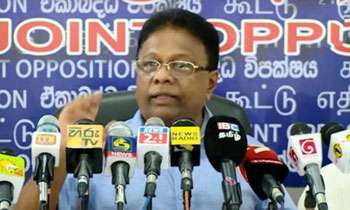 The Joint Opposition (JO) today urged the Commissioners of the National Police Commission (NPC) to resign if they could not properly investigate the alleged conspiracy to assassinate President Maithripala Sirisena and former Defence Secretary Gotabaya Rajapaksa.
JO MP Dullas Alahapperuma told a news conference that IGP Pujith Jayasundera should take immediate measures to arrest DIG Nalaka de Silva, who MP Alahapperuma said was the mastermind of the alleged conspiracy.
"We are aware that there are talented and credible officers at the NPC. Even if they cannot conduct these investigations in a proper manner, it is better for them to resign to uphold their reputation," he said.
He said the recent transfer of DIG Silva to the IT Division from the Terrorism Investigation Division (TID) was also dubious.
"These authorities are attempting to erase the data of the telephone conversations between DIG Silva and Mr Namal Kumara, who made the revelation," MP Alahapperuma said.
Alahapperuma also said though the Law and Order Ministry had guaranteed to provide security for President Sirisena after the alleged conspiracy coming to light, no such security had been provided for Mr Rajapaksa despite him already having a smaller security detail.
Meanwhile, Pivithuru Hela Urumaya (PHU) MP Udaya Gammanpila said IGP Jayasundera was not following the instructions of the NPC on the alleged conspiracy, though he was bound to follow them. (Kalathma Jayawardhane)
Video by Buddhi