---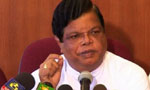 The Joint Opposition today said that it would go to Supreme Court for the second time against the Government's attempts to introduce the revised VAT, since the Gazette notification on the revision had been printed way before the Cabinet Approval was granted.
MP Bandula Gunawardane, addressing a news conference said the Gazette notice had been printed on September 9 though the Cabinet of Ministers didn't approve the VAT Bill till September 13.
"This shows how arrogant and ignorant the Finance Ministry is. The VAT blunder created by the Government deepens with the Gazette notice including a clause not to return the illegally collected VAT money which was collected from May 2," he said.
"The Supreme Court ruled out that the VAT increase from 11 percent to 15 percent was illegal since it was not approved by Parliament.
"In this context, Cabinet Spokesman said there won't be any retrospective laws, when the reformed tax revision was introduced. However, the new Gazette is attempting to legalise illegally collected amount. Therefore, we will go to the Courts for the second time," he said. (Lahiru Pothmulla)
Video by Janaka