---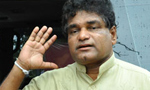 The joint opposition today requested President Maithripala Sirisena to call for a local investigation regarding the news reports in the Australian media involving the name of President Sirisena over a bribery investigation conducted on a company there.
Addressing a media briefing, joint opposition member MP Wimalaweera Dissanayake said it was not good for the country when the president is being accused of such an act and it was necessary to call for an impartial investigation in to the matter.
"The foreign reports claimed the president was involved in a bribery scandal with an Australian company, the Snowy Mountains Engineering Company (SMEC) for the construction of a dam in Sri Lanka in 2009, while he was acting as the Minister of Agriculture," he added.
Joint opposition member MP Tharaka Balasuriya said they did not believe that the President could be involved in such a scandal. He also said it would be better if a local investigation could be carried out into this matter to clarify these accusations for the country's sake.
Meanwhile, MP Dissanayake said the Government was carrying out all the 'Mahinda Chinthanaya' projects as it was proved by the continuation of the Port City and The Magampura Mahinda Rajapaksa Port projects.
"The Government is continuing all the profitable and successful projects commenced by the former government. They are not in terms to appreciate them. Instead, they put the blame on the Rajapaksa's for the down falls of their Government," he added.
Joint Opposition member MP Widura Wickramanayake said he would not be surprised even if Prime Minister Ranil Wickremesinghe would have been appointed as the common candidate to the Sri Lanka Freedom party (SLFP) at the next presidential election.
He also said at present the SLFP was accorded with the agendas of the United National Party (UNP). (Kalathma Jayawardhane)