---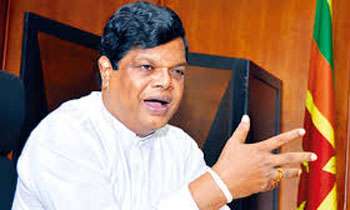 The joint opposition (JO) yesterday said it would request the government to release the report on the Sri Lanka and Singapore Foreign Trade Agreement (SLSFTA) compiled by a committee of experts.
Addressing a news briefing, JO MP Bandula Gunawardana said they would stop opposing the SL-Singapore FTA if the Expert Committee appointed by the President says the it was not detrimental to Sri Lankan interests.
Meanwhile, he said it was unfortunate that neither the President nor the Prime Minister is in Sri Lanka to make important decisions when the country was facing a financial crisis.
"The Finance Ministry Secretary and Fiscal Policy Directer are also not in the country at the moment. This is a grave situation. The rupee keeps depreciating and we just keep on blaming the US," Gunawardana said.
He said the foreigners have pulled out USD 193 million worth of funds invested in bonds as a result of the Central Bank bond scam. "In addition, the government has released USD 1,090 billion invested in the Stock Exchange to the market in order to stabilise the value of the rupee," he said. (Lahiru Pothmulla)