---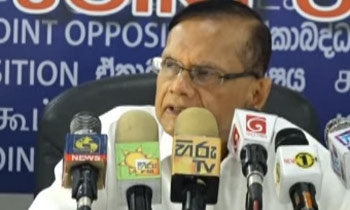 The Joint Opposition yesterday said that they would not let the government to pass the Bill on the International Convention for the Protection of All Persons from Enforced Disappearances (ICPAPED) which would be debated in parliament on September 21.
JO member Prof. G.L. Peiris told a news conference that the debate on the ICPAPED was earlier postponed due to JO's opposition as well as of the public outcry.
"The government is attempting to ratify the ICPAPED as soon as possible and its background has now been created with the approval of the Office of Missing Persons (OMP) Act," he added.
He also said that under the OMP Act, its officials were empowered to investigate any place and inquire any person anywhere and added that they had the sole authority to take any document to their custody.
He said that accordingly the people were abided by the Act to answer them and otherwise legal actions could be taken against them by considering it as a contempt of court.
"The legal protection given to the people by the law governing in the country will be nullified as a result of this Act," he added.
Prof. Peiris said that President Maithripala Sirisena had delayed approving this Act for the past seven months, and however, he had recently approved it due to claims made by the UN representatives' condemning the court procedure in Sri Lanka.
"Former Minister Wijeyadasa Rajapakshe has opposed to these claims once he was the subject minister. However, similarly the ICPAPED will also be tabled in Parliament as a result of the pressure by foreign forces," he added. (Kalathma Jayawardhane)
Video by Janaka