---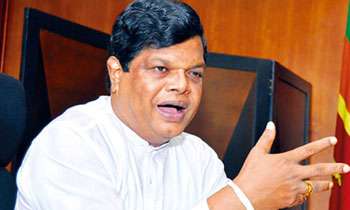 The joint opposition is planning to file legal action against the Singapore-Sri Lanka Free Trade Agreement (FTA), JO MP Bandula Gunawardene said today.
He told a media briefing held at the parliamentary complex that his party file papers at the Supreme Court and pointed out that the FTA was illegal because the government had embarked on waving tax and import duty on 3000 items.
"Government has claimed that a gazette notification containing a list of items for which tax and duty will be removed was issued, but such a document cannot be found. Therefore the FTA is illegal," he said.
The MP said the items that are to be free of taxes under the FTA include animal sperm, elephants, tusks, fish species which are banned from being used as trade items, urethras and artifacts. "In short the bio diversity of our country has been handed over to Singapore," he said.
The MP said all professionals including doctors and nurses will join the JO for its protest campaign against the FTA next month.
MP Chandima Weerakody who also participated in the media briefing said Sri Lanka was also planning to sign free trade agreements with Thailand and Malaysia.
He claimed Sri Lanka was going to allow Thai nationals to enter the country without visas and that this was aimed at allowing young handsome Thai boys to come into Sri Lanka under a clause which is to be included in the FTA with Thailand following a personal request of a particular person. (Yohan Perera and Ajith Siriwardana)