---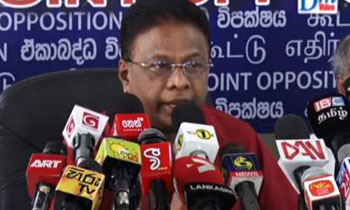 The extra set of Cabinet and non-Cabinet ministers appointed by the National Government has become unconstitutional and illegal today, the Joint Opposition (JO) said today.
It said the number of Cabinet and non-Cabinet ministers had been determined by the 19th Amendment to the Constitution and that number stands at 70.
"According to the clause 46 (a) and (b) of the Constitution, the number of Cabinet ministers shouldn't exceed 30 and non-Cabinet ministers 40. However, it says in an event where a National Government was formed, the number of ministers could be increased. Hence, we have 100 ministers, 30 extra, today," JO National Organiser and MP Dullas Alahapperuma told a news briefing.
He said with the expiration of the agreement between the Sri Lanka Freedom Party (SLFP) and the United National Party (UNP) for a National Government on December 31, the functioning of excess 30 ministers was unconstitutional and illegal.
"Continuing to maintain these excess ministers on public funds was a a blatant waste," he said.
The MP said the SLFP belittles concerns raised by others to the effect of the expiry of the agreement for a National Government. "Perhaps the two parties already have an agreement in secret," he said.
When asked about the action the JO was mulling to take over the 'unconstitutionality' of the Cabinet, he said they will have to wait till Parliament convenes on January 23 or Supreme Court on January 6.
"However, we will take all necessary action," he said.
Meanwhile, he said everyone who is against the government should vote for the Sri Lanka Podujana Peramuna at the Local Government election on February 10.
"Make us victorious and before the National New Year in April, we will show how to change the government," he said. (Lahiru Pothmulla)