---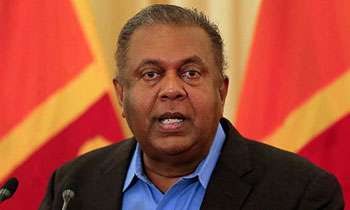 Tomorrow's protest is a sacrifice being offered by the Joint Opposition (JO) to get MP Namal Rajapaksa freed from court cases against him, Finance Minister Mangala Samaraweera said.
Speaking to the media at the Ministry he said MP Namal will be offering a large human sacrifice against his court cases with the help of his father's supporters.
Minister Samaraweera said MP Namal Rajapaksa was a person who is out on bail in connection with several court cases.
"We are not going to do anything to the protesters as what had happened during the previous regime. It is after such a situation that the 'Yahapalanaya' Government came to power, our country has the seven-star democracy in the world. We have given the right to protest for any person in the country, even persons like Namal Rajapaksa who is out on bail," he said.
No one had the freedom to hold a protest during the last ten years. As the Minister, I would appear on behalf of rights of former President Mahinda Rajapaksa and MP Namal Rajapaksa to engage in protests today. But, if anything happens in the day-to-day life of the people, we would not hesitate to take actions against the protesters.
Our government did not cancel any grounds for bookings of the JO members and while holding a protest march MP Namal Rajapaksa's ambition was to give maximum pressure for the people, the Minister said.
However, MP Rajapaksa had stated that the protest march was organized in a way that no harm would be caused either to the general public or to public property. (Chaturanga Samarawickrama)