---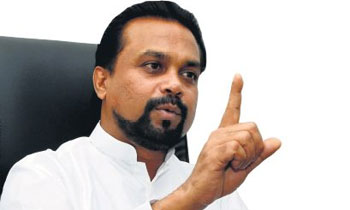 The joint opposition (JO) said today it was planning to submit a no-confidence motion against Prime Minister Ranil Wickremesinghe in connection with the Central Bank (CB) bond sale issue.
JO MP Wimal Weerawansa said a decision would be taken at the JO party leaders meeting to be held on Sunday.
"The government should not try to close the 'Bond' chapter by sacrificing Ravi Karunanayake. It was Prime Minister Ranil Wickremesinghe who orchestrated this scam. There has been no greater scam than this which has made a severe impact on the people's lives irrespective of their political views. Because of the bond scam, loan interests have gone up," he told a news briefing.
The MP said it was the Prime Minister who wanted to appoint Arjuna Mahendran as the Cebtral Bank governor and added that the value of rupee declined against the US dollar as an impact of this scam. "The yahapalana government committed at least 60 robberies during its so-called 100-day programme," he claimed. (Lahiru Pothmulla)