---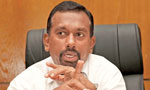 The joint opposition today lodged a complaint against International Trade Minister Malik Samarawickrama and Prime Minister's Advisor R. Paskaralingam with the Bribery Commission today for allegedly selling the Hambantota Harbour to a Chinese company incurring a loss of Rs. 330 billion to the State.
Addressing a media briefing, Joint opposition member MP Mahindananda Aluthgamage said the government had decided to sell the Hambantota Harbour in order to pay the debt amounting to Rs. 1.1 billion which had been taken for the initial constructions of the Hambantota port by the Sri Lanka Ports Authority (SLPA).
"Accordingly, the Cabinet has approved the cabinet paper which was brought out regarding this issue, since this agreement is to pay the debts obtained to construct the Hambantota Harbour. Meanwhile, the officials of the Prime Minister's office have arrived to an agreement with an associate Chinese company without the approval of the Ports and Shipping Ministry," he said.
He said later that the government had stated that not a single cent would be paid as the repayment of debt and those funds would be used for some other purpose.
He said that it was reported that Ports and Shipping Minister Arjuna Ranatunga had not been informed or intervened in any of these decisions.
"Minister Samarawickrama and Mr. Paskaralingam have intentionally ignored Minister Ranatunga and instructed the SLPA to go ahead with this agreement," he said.
He said Minister Ranatunga had informed the Cabinet that selling the harbour to China Merchant Port Holding Company Limited would cause a staggering Rs. 330 billion to the country.
"A group comprising Minister Samarawickrama, Mr. Paskaralingam and P. B. Mangala Yapa of the International Trade Ministry had justified this move and the committee of secretaries is intending to sign this agreement in the coming days," he said. (Kalathma Jayawardhane and Thilanka Kanakaratne)
Video by Buddhi