---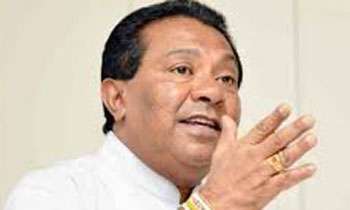 Former Minister S.B.Dissanayaka said the joint opposition had no haste to topple the UNF government and added the government would finally agree to hold a parliamentary poll before the due date.
He said the JO was keenly watching how and when the UNF government got itself into trouble, leaving no option but to go for an election. Addressing the media at the 'Center for Media Freedom' in Colombo, Mr. Dissanayaka said the UNF government had been formed on a Supreme Court ruling and all administrative, financial, industrial and economic handling have been brought under Prime Minister Ranil Wickremesinghe.
"When Mahinda formed the 51-day SLFP government, almost all the senior SLFP leaders refused accepting Cabinet positions. I, Bandula, Susil, Wimal, Dilan, Vasu and many others refused to swear in as ministers.
They accepted Cabinet portfolios after much persuasion," he added. ` In quite contrast, the backbenchers as well as seniors of the UNF demanded Cabinet posts and the government was in trouble over this issue. The backbenchers say they also want Cabinet positions. Those who got Cabinet posts are not satisfied with their subjects and some others say they have got only a minor job. Some also say they haven't got enough institutions under their purview and as a result, the government is divided, he stressed. Former Minister Bandula Gunawardana said Prime Minister Ranil Wickremesinghe must correct a misleading statement he made the other day saying the government has spent US$ 8 billion of foreign reserves during the 51-day purported government.
This is incorrect because the total foreign reserves stood at 7.6 billion at the end of November 2018. So how can the government spend US$ 8 billion? "If the government spent US$ 8 billion, Sri Lanka's foreign reserves would have been fully exhausted and not a single dollar remains as foreign reserves. In such a scenario, no country or any global financial agency or foreign bank would have accepted bonds, securities, guarantees and cheques issued by the Central Bank or any of our commercial banks," Mr. Gunawardana pointed out. He said therefore, the government must rectify this mistake and issue a statement clarifying the correct position of foreign reserves immediately, he stressed.
Former Minister Dilan Perera, said it was not Deputy Minister Ranjan Ramanayaka who must be brought before courts for contempt of court, but TNA Parliamentarian M.Sumanthiran because Mr. Sumanthiran had lied to courts saying that the UNF commands the confidence of 122 members in Parliament. "During the Vote on Account, there were only 98 members to support the UNF. That belies what Mr. Sumanthiran maintained. Therefore, he must be brought before courts and punished he added. Mr. Perera also said it was extremely unfair and treacherous to say that a draft of the new Constitution must be introduced in Parliament before Independence Day on February 4 in 2019.
"There is no draft finalised for the new Constitution and the steering committee on Constitution-making has not given the green light for a new Constitution. Mr. Sumanthiran has created this new role for Christmas. As such he must make a statement on the matter," he stressed. (Sandun A Jayasekera)
Video by Janaka