---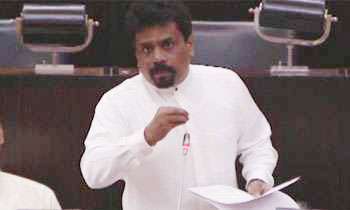 JVP leader Anura Kumara Dissanayake said today the joint opposition including Opposition Leader Mahinda Rajapaksa were inciting racism by claiming that a federal constitution was being introduced in April when not even a draft constitution had been finalized.
He told parliament that the JO which was thwarted from its political conspiracy was now in a state of political destitution was engaged in spreading rumours about a new constitution and attempting to incite racism.
The MP said those who were spreading rumours about the Constitution were functioning as members in the subcommittees on constitution-making.
He said the JVP was canvassing for a new constitution which included provisions to protect the rights and identities of all communities, to abolish the extreme powers of the presidency and to change the electoral system.
He said the steering committee on constitution-making had not been able to finalise a draft constitution as it had failed to reach a consensus on some of the salient points such as the executive presidency, the electoral system and the devolution of power.
"We are still in the constitutional-making stage. But the JO is spreading rumours that a federal constitution is being introduced. Constitutional-making was a long process and for the past three and half years, we have not even been able to prepare a draft," the MP said.
He said it was pointless proceeding with the Constitutional Assembly and the steering committee any longer and stressed the need for the steering committee to present all proposals to the Constitutional Assembly. (Ajith Siriwardana and Yohan Perera)