---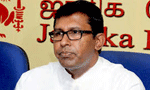 Jathika Hela Urumaya (JHU) National Organiser Nishantha Warnasinghe yesterday condemned the clash between two student factions, which occurred at the Jaffna University campus last Saturday.
Addressing a media briefing, Mr. Warnasinghe said they could not condone the clash, which had aroused separatism and racism once again in the country as the clash had erupted due to a cultural performance.
"The cultural performance was included in the welcome ceremony, which has been arranged for freshmen at the Science Faculty. The students of the Arts Faculty, including Tamils, had opposed the event and later attacked the students of the Science Faculty. Sinhala students of Jaffna University have lost their equality in rights, considering this incident," he said.
He said there were many other functions that took place at all Universities around the country and Sinhala students had never opposed the functions of any other religion or community. (Kalathma Jayawardhane)
Video by Chamilka