---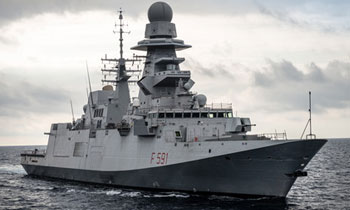 The Italian Navy FREMM (European Multi-Mission Frigate) Carabiniere is scheduled to arrive in Colombo for a four-day visit from January 11 to 14.
Colombo is the second port visit of a four-months deployment, started in La Spezia on December 20, which will bring the ship to call in several ports in Australia, Indonesia, Malaysia, Oman, Pakistan and Singapore.
ITS Carabiniere is an anti-submarine warship that has been delivered to the Italian Navy in April 2015, as the fourth FREMM of ten to be commissioned. ITS Carabiniere is fitted with a latest generation platform and combat systems based on state-of-the-art military and civil standards.
ITS Carabiniere's deployment is aimed to strength the on-going cooperation activities with some trans-regional allies and develop relations with potential partners. Main theme of the naval campaign is thus maritime safety and surveillance, cooperation strengthening and naval diplomacy.