---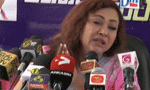 Joint opposition MP Geetha Kumarasinghe said yesterday her saying at Thursday's news conference that 20 million people had participated in the 'paada yathra' was a slip of the tongue.
She said she meant to say two million people and that she did not regret saying 20 million because the crowed was good as 20 million participating in the march.
"Two million people participated in the protest march from Kandy to Colombo even though all of them did not come all the way to Colombo. I do not regret having said 20 million people because the crowd seemed to be as much as 20 million," Ms. Kumarasinghe said.
She said she would have not made that mistake if she had said it in English and added that Deputy Minister Ranjan Ramanayake vowed to shoot himself, if more than 10, 000 people participated in the march and asked if he had done so?
Ms. Kumarasinghe said 'paada yathra' was a complete success and those who were unable to come to terms with it were slinging mud at them. (Ajith Siriwardana)
Video by Balapitiya Anuradha