---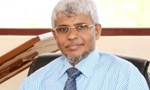 Eastern Province Chief Minister Nazeer Ahamed yesterday gave the background to the incident that occurred at the function held at the Sampur Maha Vidyalaya. He said he had lost his temper because of the actions of Governor Austin Fernando.
Speaking to Daily Mirror, he said the governor had shown a lack of the respect for him, frequently undermining his authority in the province and interfering in his work .
Commenting on the incident at the function, he said that he, the Chief Minister, had not been acknowledged officially by the compère.
"However, when I tried to get on the stage after the governor called me, the compère tried to stop me. Then I lost my temper. If the governor had told the organisers that I was the chief minister and that I should be allowed on stage, this wouldn't have happened. I know the navy officers are innocent. It was the governor who was at fault," he said.
Prior to attending the Sampur function, he said, they had attended another function in Kinniya. When he asked the governor about going from there to Sampur in the helicopter, the governor had said there was no room for him .
"I was hurt. He asked me to leave the function early so that I could get to Sampur on time, and that they would follow in the helicopter. So I went to Sampur and waited for them. The governor, ambassador and others arrived later. I was not even acknowledged there. Had the governor informed the organisers, this would not have happened," he said.
When asked whether his 'outburst' was justifiable in front of the students, he said he had lost his temper because he had been snubbed in front of his people. "This shows how the Chief Minister is treated. The post should be respected. After all, he is the head of the province," he said.
He said his province had people belonging to many different communities and it required much work to achieve reconciliation. "That is what I have been doing here. I am working for the people, dealing with the TNA, SLMC, UNP and the UPFA. This is why the East is different to the North," he said. (Lahiru Pothmulla)