---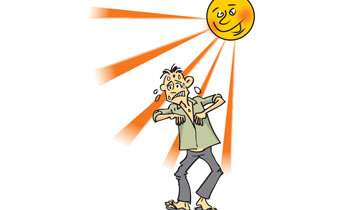 The Sun is directly over Sri Lanka spreading its heat across the country, the Meteorology Department said yesterday.
"On its apparent southward relative motion the sun will be directly over the latitudes of Sri Lanka from August 28 to September 7 this year," it said.
The Met Department said the sun was yesterday directly over Merawala, Kadigamuwa, Galgamuwa, Ridigama, Pussella, Kudavila and Pulukunuwa at 12.09 pm. It will be directly over Andiambalama, Narangoda, Gevilipitiya, Karawetiya, Radeliyagoda and Nilgala.
It said mainly fair weather is expected over the island during the next few days with the likelihood of showers or thundershowers at a few places in the Eastern and Uva Provinces and in Mullaitivu and Vavuniya districts after 2.00 pm.
Meanwhile, the temperatures in several parts of the country had risen with the highest, 35.4 degrees Celsius recorded from Polonnaruwa while Anuradhapura, Vavuniya, Mannar, Trninco, Batticaloa and Pottuvil recorded an average of 28 degrees Celsius. (Yohan Perera)