---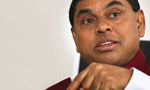 Former Economic Development Minister Basil Rajapaksa said today it was regrettable that various constructions done by the previous government for the benefit of the people were being demolished by the present government.
Mr. Rajapaksa said they were imprisoned for having developed public property while those who destroy them were at large.
"We did some constructions for the benefit of the people but it is regrettable to know they were being destroyed despite obtaining benefits from them, maintaining them or developing them. We should not look at this due to party differences," he said.
Video by Richan