---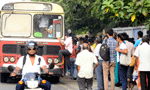 The Inter Provincial Private Bus Association (IPPBA) President Sarath Vijitha Kumara today said the ongoing island-wide bus strike was successful.
All inter-provincial and Colombo based buses which were operated from Gunasinghapura and Bastian Mawatha bus terminals came to a standstill and no buses were operated in and outside of Colombo.
"We visited most of the bus terminals in Colombo, including Gunasinghapura and Bastian Mawatha. All bus terminals are deserted. Lanka Private Bus Owners' Association (LPBOA) President Gemunu Wijeratne couldn't put his own buses to the street. He couldn't even find a single driver to operate his buses, "he added.
He said Mr. Wijerathne's lies have now been revealed; "Transport Deputy Minister Asoka Abeysinghe telephoned me in the morning to have a discussion with them. We are not in a situation of having a discussion without the removal of the Rs.25, 000 fine," he added.
Meanwhile, Mr. Wijerathne yesterday said that he would not join the countrywide bus strike.
While speaking to the Daily Mirror, LPBOA President Gemunu Wijerathne said that he cannot join the ongoing bus strike as his association wants to serve the people.
"I cannot put my buses on the streets because the bus drivers unions are also with the bus strike. This will lead the bus service industry to collapse," Wijerathne said. (Chaturanga Pradeep)
Video by Bimal Shaman Jayasinghe and RM