---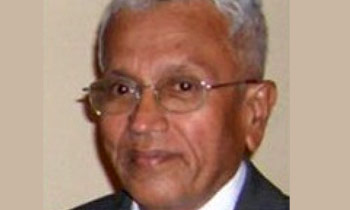 Sri Lanka's gradual movement towards the North Pole could be the reason for landslides occurring in the country during the last few days, one of the top geologists in the country said yesterday.
Professor Kapila Dahanayake from the Department of Geology, Faculty of Science, University of Peradeniya told Daily Mirror that the Island's movement, at approximately 8 cm per year towards the North Pole, could be the reason for the landslides.
"This gradual movement, which would have begun at least a million years ago, had resulted in forming glacier sediments which comprises sand, boulders, clay and pebbles on Sri Lanka's surface. It has been these glaciers that got washed away in the form of landslides during the past few days," Professor Dahanayake said.
"If one looks at the landslides that occurred, it is clear that what came sliding down the mountains with the gushing rain water were piles of sand and boulders rather than large rocks. This can be seen in the landslides that took place at Morawaka and a number of other locations," he added. He said that boulders comes down together with sand and clay, which softens as a result of the heavy rain.
However Professor Dahanayake said responsible persons in the country were not ready to accept his theory. He said this situation would prevent the country from taking effective steps to stop more tragedies in the future. "It is high time that one looks at this situation seriously," he warned. (Yohan Perera)