---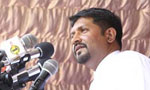 The joint opposition's Paada Yathra was not in any manner a challenge to the government and the only question the government had to ask was whether their attempt was targeted at a comeback to form a family rule again, Defence State Minister Ruwan Wijewardene said yesterday.
He told the media during a spectacle distribution ceremony for school children held at the Bandaranaike Vidyalaya in Gampaha, that it was in question what the joint opposition's Paada Yathra was meant for.
"Today the UNP, the SLFP and several minor political parties have joined hands to form a national government to resolve the national issues while providing relief to the people. The individuals who stage Paada Yathra today have an inglorious history of leading the people astray through similar means to gain cheap political mileage. We witnessed the popular campaigns too in the past to regain their rights and how they were suppressed. Three people who were killed in the Ratupaswala protest against contamination of drinking water. A young man was killed in a police shooting during a protest in Katunayake FTZ and a fisherman in Chilaw during a protest demanding the fuel subsidy. We were subjected to attacks when in opposition and even our vehicles were damaged. Today, the government has restored democracy and one is at liberty to express views without fear. Former President said that we are obstructing the Paada Yathra. They have the freedom to carry on the march subject to Court orders. However, our question is what purpose would it serve" he said.
The State Minister further said President Maithripala Sirisena and Prime Minister Ranil Wickremesinghe were motivated by one thing and one thing only; to bring about an unprecedented development and prosperity to the people. (Tilakaratne Dissanayake)