---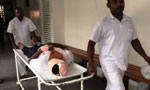 The two Government Intelligence Service officers had been attacked at Chunnakam in Jaffna by some gangsters when they had intervened to prevent an attempt by the gangsters to extort money from a shop owner, the Government Information Department said yesterday.
It said six masked gangsterswho had arrived on motorcycles had attempted to extort money after threatening the shop owner.
The Department said the health condition of the injured officers was not serious.