---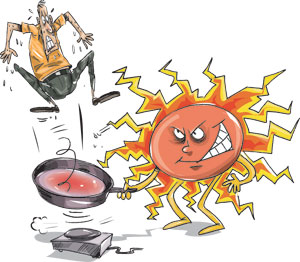 The heat in Nuwara Eliya at noon today was recorded as 30 degrees C and the cultivation in the area is fading fast due to the drought prevailing in the area for more than a month.
In several places trees below 15 feet in height are seen withered and a bad odor seems to emanate from the streams flowing across the Victoria Park causing severe inconvenience to the tourists visiting the Park.
Withered flower beds are to be seen in most places despite regular watering.
Meanwhile, residents are experiencing an acute shortage of water due to the shrinking water resources.
The residents, police, army and forest reserve officials are on the constant lookout to put out the the sporadic fires triggered by the acute heat. (Shelton Hettiarachchi)