---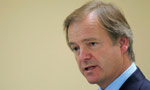 During a debate on Sri Lanka in the British Parliament on Thursday, State, Foreign and Commonwealth Office Minister Hugo Swire said there needed to be an international element in the accountability mechanism in Sri Lanka to reassure the communities that the process was credible.
He expressed these views in response to a question by one of the British MPs on Sri Lankan President and the Prime Minister's refusal to involve international judges in the prosecution of war crimes.
"To reassure the communities in Sri Lanka and to show the international community that this is a credible process, there needs to be an international element. That is what we continue to stress with the Government, with Prime Minister Ranil Wickremesinghe, with Foreign Affairs Minister Mangala Samaraweera and through UNHRC Chief Prince Zeid Al Hussein," he said.
He said he was hopeful that this message is getting through and that something would happen in that respect.
Commenting further on issue of international involvement in the prosecution of war crimes, Mr. Swire said the British Government have always been clear that any accountability mechanism needs to be credible and meet international standards.
"We therefore welcomed Sri Lanka's co-sponsorship of the UNHRC resolution 30/1. We have reiterated our commitment to its full implementation on a number of occasions, most recently in Geneva last month," he said.