---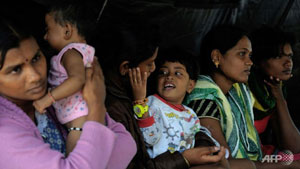 The Indonesian government said Tuesday (Jun 21) a boatload of stranded Sri Lankan migrants would not be towed back out to sea, after local officials had sparked anger by pledging to send them on their way in a rickety craft.
Authorities will allow those with genuine refugee claims to stay in Indonesia pending permanent resettlement to another country, and send the others back home, an immigration department spokesman said.
Local authorities in the western province of Aceh had previously insisted that the 43 migrants would be sent back to sea to continue their journey to Australia after repairs to their vessel.
The Indian-flagged boat, whose passengers included many women and children, has been stranded by a beach in the town of Lhoknga since June 11 after its engine broke down.
Aceh officials at first refused to let the migrants come ashore, arguing that Indonesia was not their destination, despite pleas from the vice president and rights groups to allow them to disembark.
Tensions boiled over at one point, with authorities firing a warning shot as some desperate women tried to leave the boat.
Amnesty International accused officials of "endangering lives" by firing shots and threatening to push them back out to sea "in flagrant violation of international law".
The migrants, believed to be from Sri Lanka's Tamil minority, were eventually allowed to come ashore at the weekend as bad weather battered the boat, and were housed in tents.
Aceh authorities continued to insist they would send them out to sea again when the vessel was fixed.
But Heru Santoso Ananta Yudha, immigration spokesman in Jakarta, said Tuesday the boat was "no longer seaworthy".
"The bad weather has continued, leading to the boat suffering more damage," he said. "Part of the hull has filled with water and part of the boat is sinking."
International Organization for Migration (IOM) spokesman Paul Dillon added that "Mother Nature has forced the issue as it is impossible for this group to safely remain aboard".
The government had contacted the Sri Lankan and Indian embassies as well as the IOM and UN refugee agency to verify the identity of the migrants, Yudha said.
Dillon confirmed that IOM and refugee agency officials were providing assistance.
Staunchly Islamic Aceh last year took in hundreds of Rohingya, a persecuted Muslim minority from Myanmar, during a regional people-smuggling crisis. But the province said it did not want the Sri Lankans as they were economic migrants. (JAKARTA)