---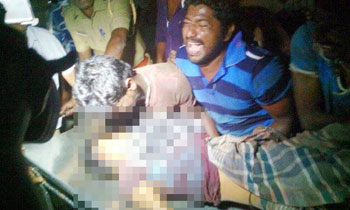 If both Indian and Sri Lankan governments remain silent regarding the killing of the Rameshwaram fisherman, Indian fishermen's organisations yesterday said they would complain to the United Nations Human Rights Commission (UNHRC) against the shooting.
The Chairperson of National Fishworkers Forum (NFF) M. Ilango said a thorough investigation should be launched into the fisherman's death and those who are responsible should be brought to book.
"During the post mortem, AK-47 bullets have been found inside the victims's body and there are witnesses of the shooting. But, Sri Lankan Navy has denied the allegation. Who shot him then? We need to know who are responsible for this murder," M. Ilango said.
He stressed that both governments should move faster for a permanent solution to the long-standing fishermen crisis.
South Indian Federation of Fishermen Societies (SIFFS) said the alleged shooting was inhuman and unacceptable.
"Previously, our fishermen have been harassed and intimidated by the Sri Lanka Navy. But, this is the first serious incident that happened after five years," V. Vivekanandan of SIFFS said.
He said local authorities of both countries are under tremendous pressure to act as the issue has been dragged towards a political context.
Indian media reported that the deceased was hit by a bullet in his throat while fishing with five others on the seas between Sri Lankan island of Katchatheevu and Danushkodi of Pamban Island, Tamil Nadu on Monday.
When contacted by the Daily Mirror, Sri Lanka Navy Spokesperson Lieutenant Commander Chaminda Walakuluge yesterday had denied such allegations and stated the Navy had not been ordered to fire at Indian fishermen.
However, The Hindu reported today that Indian High Commissioner to Sri Lanka is scheduled to meet Prime Minister Ranil Wickremesinghe in Colombo regarding the shooting.
According to NFF, fishermen from five districts of Tamil Nadu Ramanathapuram, Pudukkottai, Nagapattinam, Thanjavur and Thiruvarur are fishing in Sri Lankan waters.
Fishermen's organisations from the five districts are meeting tomorrow (09) in Nagapattinam to discuss on a protest campaign, demanding legal actions against the responsible parties of the Rameshwaram shooting. (Piyumi Fonseka, reporting from India)