---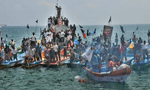 A total of 297 Indian fishermen, who had trespassed into Sri Lankan waters in 2015 had been repatriated by the Sri Lanka Coast Guard (SLCG), the annual performance report of the Defense Ministry revealed.
The report, which was presented to Parliament, said that the Indian Coast Guard had repatriated 87 Sri Lankan fishermen, who had trespassed into Indian waters in 2015.
"SLCG fleet units have executed many repatriation operations in collaboration with Sri Lanka Navy and the Indian Coast Guard," the report said.
This also report highlighted that SLCG life guards have rescued 181 persons, which included 102 foreigners in 2015.
"Law enforcement operations have been carried out in Sri Lankan territorial waters and rendered necessary assistances to other national law enforcement organizations and government authorities to perform their respective duties.
"Plans are afoot to improve SLCG cadre up to 1,500 in order to cater scheduled future deployments. It has also been planned to obtain six inshore petrol crafts from US Coast guard, two patrol craft from the Japanese Government and two in class cutters from US Coast Guard in the future.
"New SLCG life saving points in most popular beaches around the country and incensement of life guards at existing life saving points and establishment of new fishing monitoring stations in remaining fishery harbors are also on the cards," the report said. (Yohan Perera)