---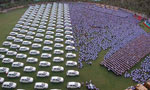 A diamond tycoon in India has once again given away hundreds of cars and flats to his employees as a bonus for meeting company targets, the Guardian reported today.
Savjibhai Dholakia, who runs a diamond export firm in the booming west coast city of Surat, announced his company would give 1,260 cars, 400 flats and pieces of jewellery to his employees ahead of the Hindu festival of Diwali.
"Our aim is that each employee must have his own home and car in the next five years. So we have decided to gift cars, homes and jewellery to employees," Dholakia, owner of the Hare Krishna Exports, has told AFP.
He said the rewards were in recognition of the outstanding performance and dedication shown by employees in the last five years.
The company would spend an estimated 500m rupees ($7m) under the loyalty programme to reward an unknown number of staff from a total workforce of 5,500.
Most employees receive presents of some kind from their bosses during Diwali but they are usually boxes of Indian sweets.
But Dholakia has been making headlines by giving expensive gifts to his employees since 2012, when three employees received cars for their performance.
The generous boss gave 491 cars and 207 flats to his employees under a similar programme in 2014.
The company will exclude previous year's beneficiaries from the new scheme.
His firm is one of the leading polishing companies in India's diamond hub Surat and exports diamonds to some 75 countries.