---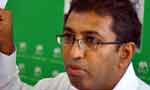 The Indian aided ambulance service would be commenced from mid this year, Acting Foreign Affairs Minister Harsha de Silva today said.
Addressing a news conference, he said only four Indians would be given visas to come to Sri Lanka to operate the service and that selected 600 Sri Lankans would be trained in India to handle the paramedic service.
Dr. De Silva said the service would be entirely a Government venture and it would be monitored by a committee headed by the Director General of Health, representatives of the Treasury and other officials of the Health Ministry.
He also said the ambulance service would only be continued if the Sri Lankans want it after one year of contract period of the ambulance service.
"We will review and collect the opinion of the general public through a website, asking the people to comment on the service and then make a decision on it," he said. (Yohan Perera & Darshana Sanjeewa)