---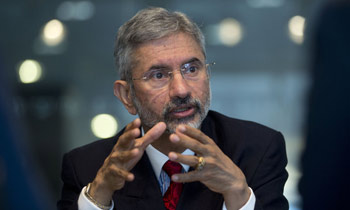 Indian Foreign Secretary S. Jaishankar will visit Sri Lanka from February 18 to 20 during the course of which a wide range of bilateral issues will be discussed, the IANS today said.
"The visit will continue the tradition of close exchanges with Sri Lanka that has gained momentum in the last two years," Indian External Affairs Ministry spokesperson Vikas Swarup said in his weekly media briefing in New Delhi.
The Foreign Secretary is scheduled to interact with the Sri Lankan leadership for discussions on possibilities of collaboration and cooperation in a number of sectors including power, highways, airport and hydrocarbon sector.
Swarup said the visit would help in taking stock on various decisions taken during the meetings between the two leaderships.