---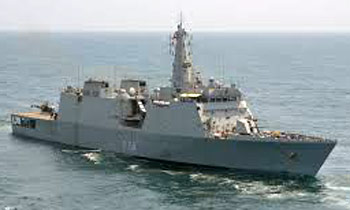 India's Goa Shipyard is expected to transfer an offshore patrol vessel (OPV) to Sri Lanka next month.
India has delivered the second fast patrol vessel (FPV), christened MCGS Valiant, to the Mauritius Police Force's National Coast Guard couple of days ago and has plans to deliver an offshore to Sri Lanka, Sputnik news reported today.
Mauritius was given the second Fast Patrol Vessel and Sri Lanka is to get an advanced offshore patrol vessel (OPV). The ships to both the countries have been delivered months before schedule.
Goa Shipyard Limited (GSL) has also begun work on the second OPV destined for the Sri Lankan Navy on Tuesday which is scheduled to deliver next year.
"India has the capability to build such vessels and give them to friendly countries. We are cooperating with all our neighboring countries, and wherever we have weapons, we can cooperate and be a partner in their security setup." A K Gupta, Secretary, Defense Production said after the launch of the advanced OPV for Sri Lanka.
"From that perspective, Sri Lanka is a major partner in our bilateral relationship and this OPV is a major milestone in our bilateral relationship," Gupta added.
The Indian government had sanctioned two OPVs for Sri Lanka in 2010 and the contract for the same was signed in April 2013.
The 105.7-meter-long and 13.6-meter-wide vessels have a full-load displacement capacity of 2350 ton, with an overall beam of 13.6 meters, and a hull draught of 3.6 meters.
The OPV can reach a top speed of 24 knots and accommodate a crew of 118, including 18 officers, and a helicopter on its flight deck. (defenseworld.net)