---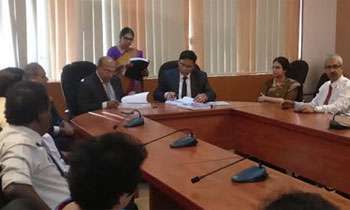 India has agreed to supply 160 railway passenger coaches to Sri Lanka valued at around 82 million US dollar under Concessional Financing, the Indian High Commission said.
A contract agreement for the supply of passenger coaches was signed between RITES Limited and Government of Sri Lanka in Colombo on Friday.
The contract agreement was signed by Director (Technical), RITES Ltd Mukesh Rathore, and Secretary to the Ministry of Transport & Civil Aviation G.S. Withanage.
The passenger coaches will be custom-made in India to suit the requirements of Sri Lanka Railways.
A Line of Credit (LoC) Agreement of US$ 318 million for procurement of railway rolling stock and upgradation of rail tracks was signed between EXIM Bank of India and Sri Lankan Government in June 2017 in Colombo.
The current contract agreement for supply of 160 passenger coaches will be covered under this LoC.
Procurements of rolling stock from India which are underway also include 6 DMUs, 10 locomotives, 20 container carrier wagons and 30 fuel tank wagons. RITES Ltd. will be supplying the DMUs and locomotives, whereas Texmaco Rail & Engineering Ltd. will be supplying the wagons.
India has already completed projects close to US$ 1 billion under concessional financing in the railway sector in Sri Lanka.
This project is in continuation of India's efforts to partner with Sri Lanka in people-oriented connectivity projects in Sri Lanka.