---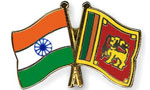 India today signed an agreement with Sri Lanka to provide over $400 million to finance three water supply projects in the country that would benefit at least one million consumers.
The agreement, between the Export-Import Bank of India and Sri Lanka's National Water Supply and Drainage Board, was inked in the presence of the Minister of Water Supply Rauff Hakeem and the Indian High Commissioner in Colombo, YK Sinha.
The buyers credit arrangement is worth $403.1 million, the minister said in a press release.
Hakeem said the Indian assistance under this scheme would benefit at least one million water consumers in the three provincial areas outside the capital Colombo.
India has been stepping up its development assistance to Sri Lanka since the end of the separatist war in the north and east regions.
India is engaged in a number of development cooperation projects in the island-nation, including a $270 million project to build 50,000 houses for ethnic-Tamils displaced by 30 years of civil war, which ended in 2009.
India is also engaged in the reconstruction of the Northern Railway Line in the country's war-ravaged north. (economictimes)