---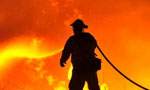 At least 75 people were killed and more than 200 injured in a fire at the Puttingal temple in the Indian state of Kerala on Sunday morning, Assistant Police Commissioner K. Laljy told CNN.
The wounded have been shifted to different hospitals in the city of Kollam and also to a medical college, Kerala Assistant Commissioner M.S. Santhosh said.
The incident occurred at 3:15 a.m.
The fire erupted when sparks from a fireworks display landed on and ignited a magazine of fireworks, Laljy said earlier.
He said that the fire is out and emergency personnel are at the scene.
There is no damage to the temple.