---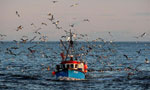 The Indian Government has suspended fishing by Tamil Nadu fishermen in Sri Lankan territorial waters for 45 days, Fisheries and Aquatic Resources Development Minister Mahinda Amaraweera said.
He said the Sri Lankan Government would request New Delhi to extend the fishing ban to prevent poaching by South Indian fishermen.
The minister said he would visit New Delhi shortly to convince Indian authorities the importance of continuing the ban because Sri Lanka incurred losses of up to Rs.5,400 million annually because of the illegal fishing by South Indian fishermen who violate Sri Lanka's International Maritime Boundary Line (IMBL) and in the process destroy marine life.
A Sri Lankan fisherman is said to lose between Rs.2 and Rs.4 million annually.
"Studies conducted by the Fisheries Ministry has found that South Indian fishermen catch 312,000 metric tonnes of fish annually. The Tamil Nadu Government of Jayalalitha never listens to our requests not to let her fishermen to engage in Illegal, Unreported and Unregulated (IUU) fishing in Sri Lanka's territorial waters as the illegal business is carried out by the politicians of her state government," the minister said.
He said the government had arrested 2,313 South Indian fishermen in 2015 and 2016 and taken into custody 460 fishing craft. The fishermen will be released after producing them in courts but the fishing craft will be confiscated.
The minister said the illegal fishing has affected the livelihood of fishermen in the districts of Jaffna, Mullaitivu, Puttalam and Mannar.
He expressed his gratitude to the Indian Central Government for banning fishing in Sri Lanka's waters and preventing Tamil Nadu fishermen from leaving South Indian Ports to poach in Sri Lankan waters. (Sandun A Jayasekera)