---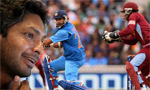 Kumar Sangakkara in an exclusive chat with the NDTV said that Indian cricket skipper Mahendra Singh Dhoni has enough ammunition in his repertoire to stop Chris Gayle, when India face West Indies in the World T20 semifinal in Mumbai today.
"I think India has quite a few options to stop Chris Gayle. They have Jasprit Bumrah, who bowls with decent pace and with an unorthodox action.
"At the same time, they have Ravichandran Ashwin and Suresh Raina. I feel Dhoni will turn to Ashwin to open against Gayle, and sacrifice two to three overs to try and get rid of the big West Indian," Sangakkara told in an exclusive chat with NDTV.
"Gayle has also shown particular weakness against left-armers. India has Ashish Nehra, who is bowling beautifully throughout the tournament. So, Dhoni has enough options," he added.
Virat Kohli who has been in phenomenal form in the tournament, could well again be West Indies' nemesis, opined Sangakkara.
"Teams have been wary of Kohli in this tournament. Teams have tried various options to get him out, but none of them have worked. You saw Australians, in my view, bowling a bit too straight to Virat, which he flicked through the leg side for a boundary," Sangkkara said.
"Then they bowled a wide, which Kohli drove for four through point. So, the bowlers seemed to be under pressure and thereby bowling to Virat's zones. West Indies' bowling line-up is not one of the strongest in the tournament. So, their management must be working to find a way out to get him out," he added.