---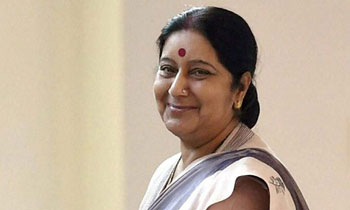 Indian External Affairs Minister Sushma Swaraj said the government of President Maithripala Sirisena could always count on continued Indian support, President's office said yesterday.
She said this when she called on the President at the President's Official Residence in Colombo.
The President and the visiting Indian minister held discussions on issues related to the Indian Ocean Conference currently being held in Colombo. Ms. Swaraj who is the Vice Chairman of the Conference said India extended its fullest cooperation to the countries in the Indian Ocean region to ensure the security, peace and stability of the Indian Ocean which was the most important to keep the supply route for goods and energy needs open and safe.
She said India assured her neighbours that India's vision for the Indian Ocean Region was to preserve its organic unity while advancing cooperation.
The President and the Indian External Affairs Minister exchanged views on ongoing and proposed joint ventures and projects. They said any issue related to them could be worked out as the two countries have a perfect understanding about economic interests and internal political situations.