---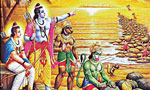 In a move to develop infrastructure at the sites that form a part of the Ramayana circuit, the Indian Central government signed a Memorandum of Understanding (MoU) with the Sri Lankan government, which says both the neighbouring nations will work jointly to promote mutual tourism interests.
Sources in the Ministry of Tourism (MoT) said the Lankans have offered 4-5 destinations to be included in the Ramayana circuit, to complete the religious trail.
These destinations would be Ravana's palaces, Ashok Vatika, Hanuman's entry point that is called 'Nagadeepa', 'Donara' where god king Ram first attacked Ravana and Yudagannawa- the main battle ground which is now stands as a wild life sanctuary, among others.
"The MoU was inked on June 3 this year, in which it was agreed that Indian tourists visiting the Ram tourism circuit in Sri Lanka will be facilitated by the Lankan government," an official said.
"Reciprocal smooth passage will be accorded to visitors from Sri Lanka, a predominantly Buddhist country, while visiting various Buddhist circuits in India," he said.
The Buddhist circuits are Saravasti, Kushinagar, Bodhgaya, Sarnath, Nalanda and Lumbini located in southern Nepal, where queen Mayadevi gave birth to Prince Siddhartha.
"The facilities exchanged will comprise easy transit, visa processing and security," the official said.
The groundwork for establishing a MoU on the Ramayana trail was laid when India's external affairs minister Sushma Swaraj led a ministerial delegation to Colombo in February this year, for the 9th session of the India-Sri Lanka Joint Commission, which she co-chaired with Sri Lankan foreign minister Mangala Samaraweera.
Progress of and developments in bilateral relations, especially in the sector of tourism, were reviewed at that Joint Commission meeting. (India Today)