---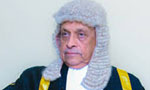 Speaker Karu Jayasuriya has informed members of independent commissions that neither President Maithripala Sirisena nor Prime Minister Ranil Wickremesinghe had negative attitudes towards any of the said commissions.
The Speaker expressed these sentiments and sent an explanation to the commission members in response to an inquiry they have made from him whether the top brass of the government had developed any negative attitudes on the commissions. They had made this inquiry form the speaker as the head of the constitutional councils which appoint members to the independent commissions.
He had also informed the commissions that the attitude of the President and the Prime Minister did not differ.
Sources close to the Speaker said he had informed that both the President and the Prime Minister were of the view that inflicting undue influence on the members of the independent commissions should not be allowed.
He had also informed them to carry out their duties to the best of their abilities. Mr Jayasuriya had assured that he would make sure that the commissions would get all necessary support from everyone. (Yohan Perera)