---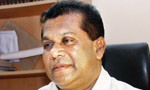 The Senior member of the Asgiriya Chapter Karaka Sabha Ven. Gallellge Saddhatissa Thera said the spiralling cost of living had affected the public and the Maha Sangha as well.
During a meeting with Minister of Public Administration Ranjith Madduma Bandara who visited the Asgiriya Chapter this morning, the Ven. Thera pointed out that the Maha Sangha had been burdened with the increasing cost of living. He requested the Minister to make representations in this regard to the government to bring relief to the people by reducing the prices of consumer goods and services.
Earlier in the day, the Minister had met the Mahanayake of the Asgiriyia Chapter Ven. Warakagoda Sri Gnanarathana Thera. During the meeting with the Mahanayake Thera the Minister said step was being taken to hold the next Independence Day ceremony in Wellassa in memory of the historic Uva Wellassa rebellion. He also informed the Mahayanaka Thera on the proposed development projects for the Central Province.
Replying to a query from the media regarding the transfer of Secretary to the Ministry of Public Administration he said he did not have any controversy with the ministry secretary who was a senior administrative officer. He said the transfer of ministry secretaries was within the purview of the President. (J.A.L. Jayasinghe)